Ooh Aah Dracula
Ooh Aah Dracula is a playful slot produced by Barcrest, in which the audiovisual effects really give a nice finish to the gaming experience. With five reels and three rows, the number of pay lines is rather limited: ten. However, there still is a lot to experience and discover. Namely, this game has free spins and a great bonus game. Additionally, this slot has a so-called Hi Roller function, which gives you even the possibility to configure the way to want to play. We advise to read up on this function prior to activating it.
How to play Ooh Aah Dracula?
Ooh Aah Dracula is a slot quite easy to play. Namely, this slot has the standard layout of five reels and three rows. Additionally, this slot has a lot of standard symbols. However, this simplicity actually works out well considering the presence of impressive animations. That is, because of the simplicity of the rest of the slot, you can really focus on the beautiful animations that have also been included in the game. Examples of these animations are Dracula, a woman with very sharp teeth, and a wolf in front of the Moon. Also, this slot has a wild symbol, which can replace any symbol, except for the scatter symbol. In order to gain free spins, you need at least three scatters landing on your reels.
Free spins in Ooh Aah Dracula
When having a heart landed on three of your reels, the two remaining reels, which do not have a heart, will be spun again. When this happens, you hope the remaining reels also will get a heart. If you get three hearts, first the reels will be spun to determine which of the symbols will become an extra wild symbol. If you have more than three hearts, there will be even more rounds. In these, you will have more wild symbols, but fewer spins. During free spins, you follow the same rules as during regular spins. After the first round of free spins, you can go to the next round. However, do bear in mind that the winnings of the first round will be lost when entering the second round. Therefore, if your winnings in the first round are already good, it is probably best to just accept it and opt out of the second round!
There will also be a gravestone with a finger on it. This finger indicates your chances of winning again. However, it is up to you what to decide. If you win free spins, while having activated the Hi Roller mode, you also receive the bonus game, right after having played free spins! In this bonus game, you can select one of the presented gravestones. All of the tombstones hold something valuable, but the actual payout varies.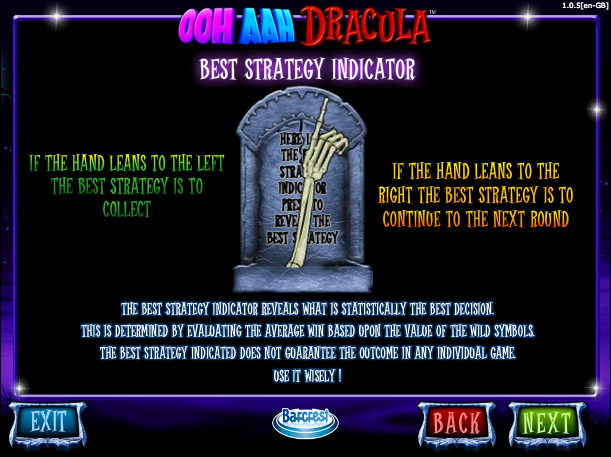 The Hi Roller mode
The Hi Roller mode is a feature you can also find in other Barcrest slots. For this function, you pay 20 or 30 credits for five consecutive spins. The scatters do not linger, but you will win a bonus game when gaining free spins. Thus, the Hi Roller mode only gives your bigger winnings if you win free spins. Whatever you do in this slot, you will always play with ten pay lines, as you cannot alter the number of pay lines. However, of course, you can chance the height of your wager. Also, this slot has an auto-play function, which is ideal for playing and relaxing at the same time. The maximum possible winning in the slot is 250,000 coins.
Ooh Aah Dracula
Graphics - 8
Characteristics - 7
Playability - 7
Mobile - 7